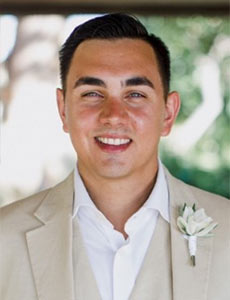 Member Highlight for Michael Miller
Michael is a Project Manager for Sundt Construction and has been with the company for 7 years. He started with the company in Sacramento, then went to San Jose, California, and later moved to Tucson for a project with Banner UMC.
Born and raised in Tucson, Michael finds a lot of pride in working for a company where he can be involved in projects like the Tucson Convention Center, Caterpillar, and Banner UMC.
Michael first learned about ELC when he was out to dinner with his boss Ian McDowell, Jeremy Welch and Lindsey Welch approached him and started to talk to him about the ELC and motivated to apply. Jeremy expanded on the mentorship program and how he could learn more about how to impact the community and meet prominent business owners. Two of the people he works with have been mentors, Dave Ollanik and Ian McDowell.
For Michael, learning about Rio Nuevo from Edmund Marquez was something he really enjoyed. Michael is now on his third Rio Nuevo Project. He always remembers what a fantastic job Edmund did when talking to the ELC members about the project and how much it means for the city of Tucson.
Michael normally finds himself being involved in several meetings every day making sure that his operations teams have everything they need to be successful as well as the design teams. He is currently involved in 10 different projects with 6 different design firms all managed by a single owner. Michael shared some of the projects he has been involved in like the Music Hall renovations, Re-Paving Lot B, Refresh of the Ballrooms, the North Meeting Rooms that is now a vaccine clinic for Pima County, a complete refresh of the South Exhibition Hall, and a Historic Landscape in different sections.
Michael's favorite mentor moment was when Howard Stewart, CEO of AGM Container Controls Inc, encouraged him to pursue his master's degree. Michael was considering it but had not taken action to start the application process and Howard motivated him to do it now and shared with him how rewarding higher education would be for his career and his future. Michael is now enrolled at the UA and will begin classes in the fall for his MBA.
Michael's father has also played an important mentor role. His father was the owner of a successful construction company. Michael did not know what he wanted to do when he grew up but he saw his father work in Las Vegas building some towers on the strip, and that attracted Michael to construction. His father would often point out to Michael the buildings and projects he had been involved in, sharing stories about the team at the time the construction was taking place. Michael learned about the purpose of construction from his father. About building spaces for a need, whether it was for the hotel industry, entertainment, or something else. The buildings his father was involved in were used by many people so he understood the purpose behind construction from a young age.
Michael often finds the opportunity to mentor down within Sundt. He is involved in a couple of committees and every year he ends up with one or two interns on his team. Michael's main focus when mentoring down is helping them figure out their path as to where they want to go and help them create a path to get to their end goal.
Michael is involved with the Arizona Builders Alliance. He graduated from their leadership program, LDF, and was the chairman for a year for the Young Builders Council. With Sundt Construction, Michael has also been involved in projects done for charity, like the Roadrunners Hockey Ring at the Boys and Girls Club in Tucson, Building a Jungle Gym for Brichta Infant and Early Learning Center, Vegetable Gardens for the International School of Tucson, and renovations of the Ronald McDonald room in Banner Children's Hospital.
A perfect day for Michael is spending it with his family at the beach in Carmel, California, with his dogs and his wife. Disconnecting from it all enjoying a picnic at the beach with his family and maybe a good book.
What Michael loves about Tucson is that it is a big city with a small town feel. He has lived in a couple of other cities and he really appreciates how many outdoor activities we have available in Tucson, our downtown and restaurants, the lighter traffic compared to the other cities he lived in and how open and collaborative people can be in Tucson. He stated how life seems to have a slower pace compared to larger cities, allowing him to enjoy more of his family.
For Michael, his greatest personal accomplishment is his family. Professionally, it has been being involved with the Banner UMC project. This is the most high-tech place he has worked on. He remembers how the project started as a dirt lot. It has bed towers, imaging & robotics laboratories, robotics operating rooms, MRIS, full ER, among other amazing features. Banner UMC is a project beyond anything people thought Tucson could have. It really hit home for Michael when he had both his parents hospitalized at Banner. He felt good knowing they were there because he helped create this amazing place, which has and will continue to heal and save lives.