Tucson Metro Chamber Events
The Tucson Metro Chamber hosts more than 50 events annually providing valuable opportunities to make strategic connections, learn from industry experts to improve business operations, and engage in constructive dialogue with government representatives regarding local business and community issues. These events are aligned with our program of work.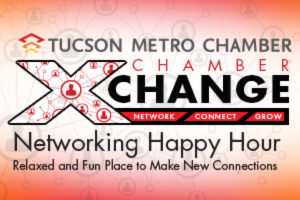 Chamber XChange
Join members and guests as we network and build relationships with business executives in our community. Increase your connections and discover new business opportunities. Check out the event calendar for dates, times and locations.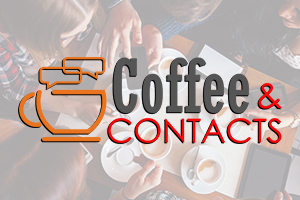 Coffee & Contacts

Start your day off right! Join the Tucson Metro Chamber for a fun and informal members-only event. It's the perfect way for the host to promote their business and members to gain new business leads—all before the typical workday begins!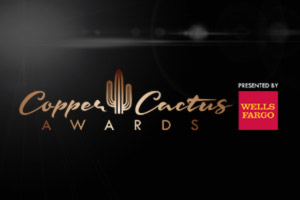 Copper Cactus Awards
The Tucson Metro Chamber Copper Cactus Awards presented by Wells Fargo celebrates the accomplishments and innovation of Southern Arizona's small businesses and charitable non-profit businesses.
AWARD CATEGORIES:
CopperPoint Small Business Leader of the Year
The winner of the CopperPoint Small Business Leader of the Year Award clearly demonstrates that their company is not only financially solid but has cultivated a passionate group of people who love what they do. They've created lasting partnerships with clients and have created a positive reputation inside and outside of the company. A business leader is self-aware, passionate, a critical thinker, courageous, confident and authentic. They are positive and emotionally intelligent. They dare to be different and are proactive. But most of all, they know how to communicate and lead.
Arizona Complete Health Workforce Development & Education
The Workforce Development Award is presented to a business that through their leadership and efforts have made a difference to people who just need a chance. These businesses hire individuals with disabilities, and/or veterans and wounded warriors. This category recognizes businesses that have taken the lead and given our returning citizens a chance and in doing what they do have given these people a better opportunity for many years of employment and making an income.
Cox Business Growth
This award is judged on a company's gross revenue, employee and compensation expenditure growth and how the company has faced challenges. They lead by example and find new and inventive ways to reach and engage their workforce. They support their employees, grow their employees, and most importantly, listen to them. Through these practices their business succeeds in showing how their sales increased over a two-year period and how their management structure, work environment, along with their products and/or services led to their company's growth.
Blue Cross Blue Shield Best Place to Work
The Best Place to Work Award is given to a business that has honest leadership with a clear vision and identity. Employees want to know where the company is pointed, what the company believes in and what everyone is working toward. They provide "flexible" growth for employees and a culture of collaboration. Great places to work are open about how the company is performing and craves honest feedback from its employees. They hire passionate people. And most of all these businesses create a fun atmosphere.
Tucson Electric Power Social Impact
This award recognizes a nonprofit group that has made a significant contribution to the community. The winner in this category demonstrated how they made a significant impact that improved the economic, medical, educational or financial health of individuals in our community; impacted people through enabling and empowering individuals to improve their knowledge and skills toward greater quality of life; benefits the under-served, underrepresented or disaffected members of the community, including children, seniors and those in poverty; and has ad high quality treatment of employees and members of the public.
Nextrio Innovation in Remote Working
During the global pandemic, businesses were forced to pivot to survive. Overnight, technical innovation created new ways for companies to stay connected to employees, customers and the world. Tell us about your remote working innovation and why it's worthy of the spotlight. Innovative ideas can relate to products and services, clients or customer marketplaces, or employees and staff. Share your innovative strategies to success and show Tucson why the innovative will survive!
Tech Parks Arizona Start Up of the Year
The Startup of the Year winner will demonstrate a high level of entrepreneurial spirit, leadership, perseverance, innovation, creativity and determination. To be considered startup teams must show that their venture solves a true problem for a group of customers. They may have a tangible product, technology or customer service system. Moreover, they will show how their innovation contributes to the community and has or will have an impact worldwide.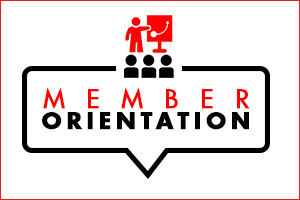 Member Orientation
Please join us for a member orientation especially created to acquaint you with membership benefits, services and programs that help your business grow.
Connect with fellow members and Chamber leadership, learn about the Chamber's program of work and how the Chamber team works on your behalf while you run your business.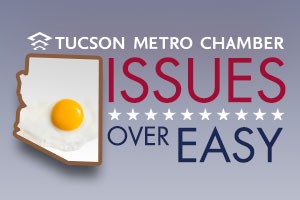 Issues Over Easy
A new and exciting look at the issues directly affecting your business and our community!
Join the Tucson Metro Chamber for a breakfast to discuss public policy issues that affect your business and our community. The format is informal and easy to understand. Issues Over Easy is a quarterly breakfast to help you connect with the Chamber's Government Affairs program and keep you up to speed on current events affecting your business and our community!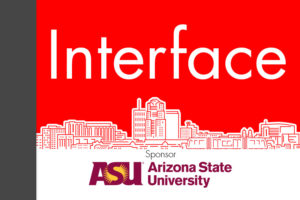 Interface
The Tucson Metro Chamber is pleased to present a series of discussions with local community leaders called Interface. Interface provides business owners and executives with opportunities to speak directly to these high level public officials about public policy and doing business in Southern Arizona. Learn the latest about policy decisions and other activities in Southern Arizona communities. Your questions and concerns are welcome. We encourage openness, transparency and robust discussion.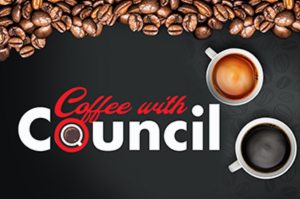 Coffee with Council
Coffee with Council is designed to bring businesses and their local, elected City of Tucson representative together for constructive dialogue regarding local business and community issues.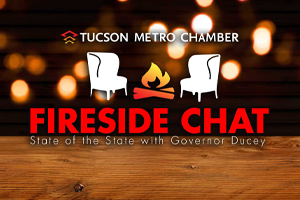 State of the State
The Tucson Metro Chamber will host Governor Doug Ducey at the annual State of the State luncheon to deliver the State of his State address detailing the issues affecting not only Southern Arizona, but the entire state of Arizona. This is a highly attended and visible event that addresses many important issues.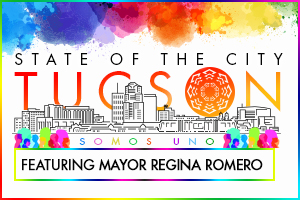 State of the City
The Tucson Metro Chamber will host the annual State of the City luncheon where Mayor Romero will deliver her "State of the City" address. This highly attended event provides a platform for Mayor Romero to outline her goals, planned policies and objectives for the City of Tucson in the coming year.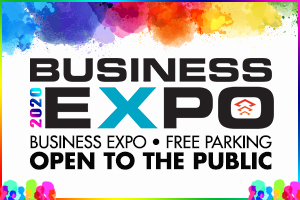 Tucson Metro Chamber Business Expo
The Tucson Metro Chamber Business Expo is held in conjunction with the State of the City address. Showcase your products and services, make key business connections and open the doors of new opportunities at the Expo.
EXPO IS OPEN TO THE PUBLIC 9:30 a.m. – 11:45 a.m.
Soup with the Supes
Soup with the Supes is an opportunity for business owners and executives to meet with the Pima County Board of Supervisors for constructive dialogue regarding local business and community issues. Bring your own soup i.e. lunch.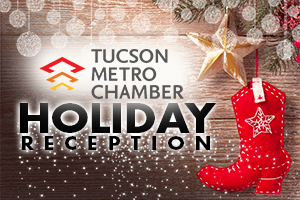 Holiday Reception

Our annual Holiday Reception brings business, government and civic leaders together to connect and celebrate the holiday season. With live music in a festive atmosphere, this unstructured reception allows you to mix and mingle with public officials and fellow leaders as we celebrate the progress made over the past year.
Speed Networking 

A new opportunity for Chamber members to accelerate their business contacts. Make 16 contacts in 60 minutes in an orchestrated rapid-fire format.