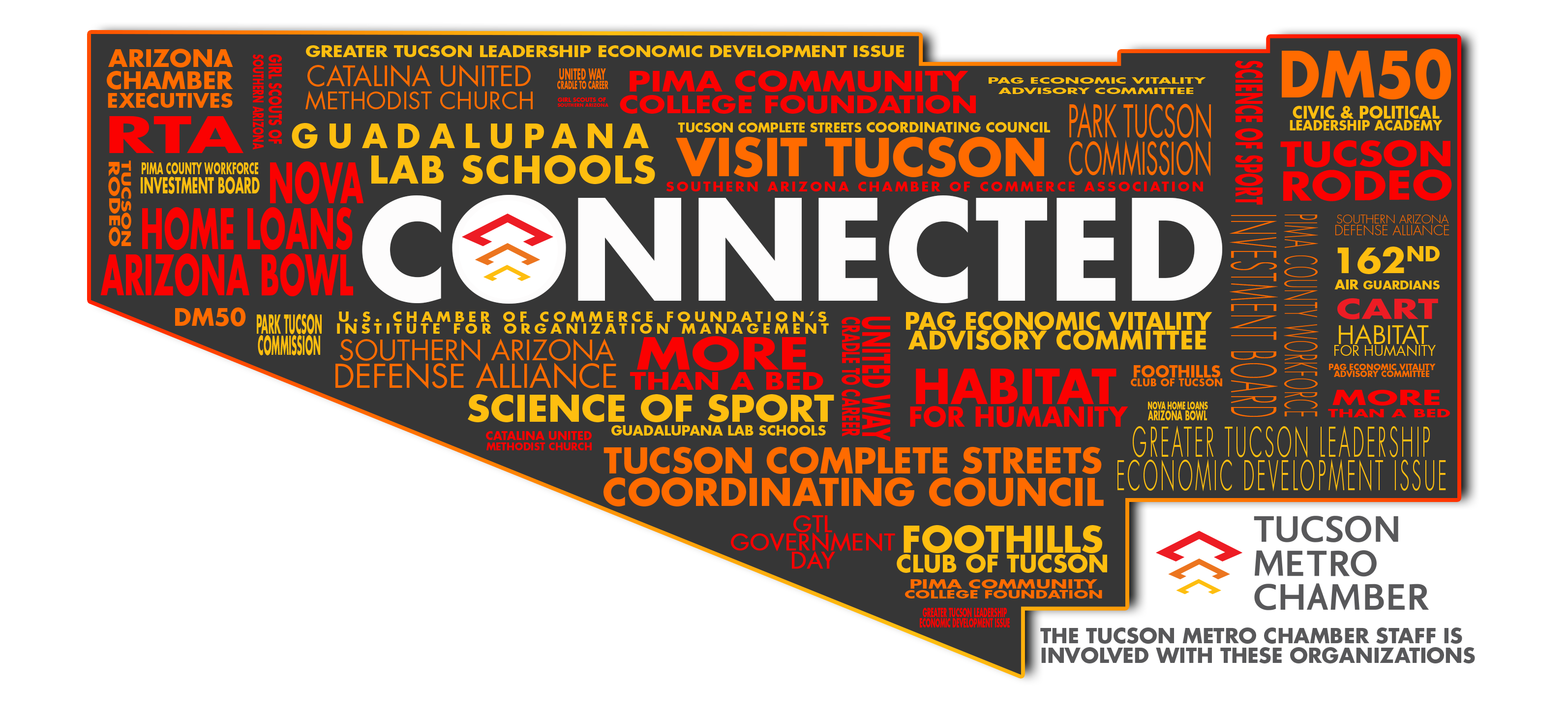 Get involved with one of these Tucson Metro Chamber councils, committees or taskforces.
---
---
These organizations have vacancies on the City and County Boards, Committees and Commissions
TALENT ATTRACTION + RETENTION TASKFORCE
---
The task force, chaired by Devon Underwood (Talent Store), is the Tucson Metro Chamber's commitment toward developing a skilled workforce that matches the needs of our employers in addition to building and executing campaigns designed to attract skilled individuals to Tucson and Southern Arizona. We understand that labor drives a great majority of market decisions and the future success of our region is tied to the advancement of the hard and soft skills of our workforce. This Task Force is comprised of large and small employers, staffing agencies, workforce development officials and higher education institutions working together to develop the right tools for our community and our employers to achieve success.
CANDIDATE EVALUATION COMMITTEE
---
WHEN: As needed pursuant to electoral calendar
WHERE: To Be Announced
The Candidate Evaluation Committee interviews candidates for public office and analyzes their background, qualifications and positions regarding Chamber-supported public policy. Committee members disseminate candidate positions to Chamber membership and report the results of the candidate evaluations to the Chamber's political action committee.
Members are appointed to serve on the committee by the Executive Committee of the Tucson Metro Chamber Board of Directors.
To be considered for an invitation-only seat on the Candidate Evaluation Committee, political party registration and any campaign affiliation must be disclosed.
MILITARY AFFAIRS COMMITTEE
---
WHEN: Monthly
WHERE: To Be Announced
Formed in 1928, the Military Affairs Committee (MAC) of the Tucson Metro Chamber has been supporting our military personnel and connecting them to the business community for over 90 years. MAC focuses on advocacy, community relations, education, awards/recognition programs and support of our men and women who wear the uniform. MAC proudly supports Tucson's Davis-Monthan Air Force Base; the 162nd ANG Wing; U.S. Army units including the Western Army Aviation Training Site; the Navy Operational Support Center; U.S. Marine Corps Bulk Fuel Company and the University of Arizona ROTC program.
This Committee meets during the lunch hour once a month and is open to any Chamber member to attend.
---
WHEN: Bi-weekly
WHERE: Tucson Metro Chamber
The Public Policy Council is comprised of members engaged in public policy analysis. Council members represent various business sectors and support the Public Affairs Department in assessing the policy objectives of the Tucson Metro Chamber. The group engages in discussions focused on pro-business initiatives at the local, state and federal levels. Topics range from economic development and growth, to transportation, to healthcare. The Public Policy Council aims to strengthen the relationship between the Chamber and its members by collaborating about how the Chamber can better advocate for business-friendly policies and influence the decisions made by our elected officials. This Council forwards policy recommendations to the Board of Directors for approval including the development of an annual public policy agenda.  Council members are appointed to serve on the council by the Tucson Metro Chamber Board of Directors.
The Tucson Metro Chamber utilizes task forces to complete special programs and initiatives as needed. Chamber members interested in serving on a task force will be placed onto a list and activated when a project arises. The Chamber's task forces commence activity upon inception of a special program and terminate at project completion. Task forces may be formed for projects focused on helping the Chamber fulfill its mission of leading and advocating for a successful community.
Committee & Task Force Interest