Tucson Metro Chamber

Copper Cactus Awards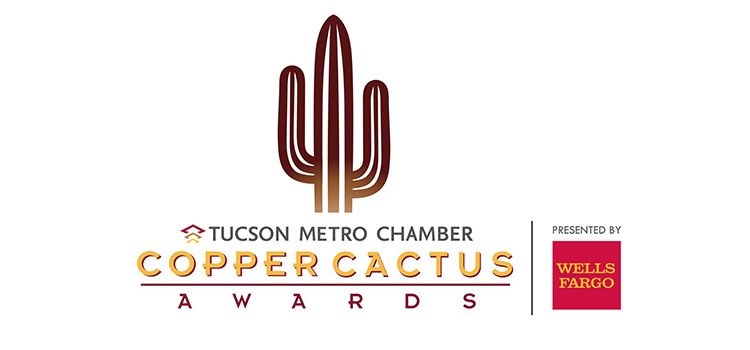 The Tucson Metro Chamber Copper Cactus Awards presented by Wells Fargo celebrates the accomplishments and innovation of Southern Arizona's small businesses.
---
---
Arizona Complete Health
Workforce Development
3-50 employees:
Linkages
51-200 employees:
AGM Container Controls
---
Cox Business Growth
3-50 employees:
Trusting Connections Nanny Agency
51-200 employees:
Chasse Building Team
Blue Cross Blue Shield of Arizona
Best Place to Work
3-50 employees:
Barker Contracting, Inc.
51-200 employees:
Home Instead Senior Care
Nextrio Innovation
3-50 employees:
OOROO Auto
51-200 employees:
World View
Copperpoint Small Business Leader
of The Year
Daniel Stringer, Total Care Connections
Tucson Electric Power
Charitable Non-Profit Business
$50,000 - $500,000 total revenue:
Junior Achievement of Arizona – Southern District
$500,001 - $2,000,000 total revenue:
Ronald McDonald House Charities of Southern Arizona
$2,000,001 - $5,000,000 total revenue:
Fox Tucson Theatre Foundation
$5,000,001 - $15,000,000 total revenue:
Humane Society of Southern Arizona
AWARD CATEGORIES:
---
---
2017 Copper Cactus Awards winners are eligible to participate but are required to be nominated in a different category from 2017.
Join us to celebrate the accomplishments of Southern Arizona's small businesses!
OCTOBER 12
PROCESS:
---
---
Nominations will be accepted April 2 - June 1
Following the nomination period, nominees will be contacted and sent the appropriate category application. The nominated company must complete the application and return it to the Tucson Metro Chamber no later than June 29.
All applications received by June 29 will be provided to the judging panel for review and deliberation. The Copper Cactus Awards judges work independently to score the applications. The cumulative scores of the independently judged applications are totaled to determine the finalists.
Finalists will be announced in August.
The winners will be announced at the Copper Cactus Awards ceremony on Friday, October 12 at Casino Del Sol Resort.
Questions: Jason Cook at (520) 792-2250, Ext. 158 or email at jcook@tucsonchamber.org