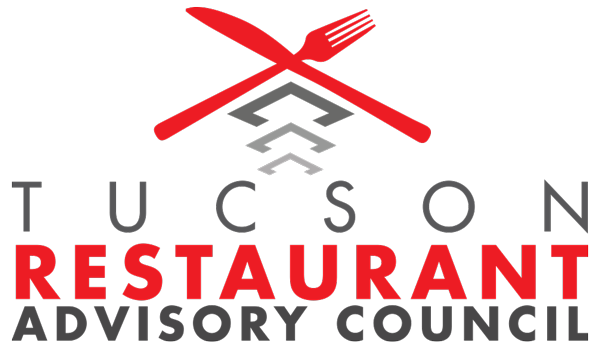 Tucson's voice at the table. Let's thrive together.
The restaurant industry is big business that contributes $1 trillion to our country's economy. The Chamber's  Restaurant Advisory Council directs the Chamber team on identifying and sharing best practices, policy issues hindering the hospitality and restaurant industry and ways to solve these issues.
This Council meets regularly and develops proactive agendas to solve these issues.
---
TUCSON METRO CHAMBER 

REC

EI

VES COVID-19 RESPONSE GRANT
Tucson, AZ--- The Tucson Metro Chamber is one of  28 Chambers throughout the state to receive a grant from the Chamber of Commerce COVID-19 Response Grant Program, [www.azgovernor.us3.list-manage.com] established  last month by Governor Ducey.  Chambers of commerce submitted proposals to the grant program to implement, or expand, any initiatives that support local businesses and accelerate local economic recovery related to COVID-19. 
Amber Smith, President and CEO of the Tucson Metro Chamber, submitted the request for funding on behalf of members of the Chamber's Tucson Restaurant Advisory Council (TRAC), a group of restaurant owners and vendors that actively engage with each other, elected officials and their representatives, and business service professionals to help guide TRAC members from survival mode to economic recovery.   
"On behalf of our restaurant members, we have championed extension-of-use permits, drafted a local ordinance to reduce third party delivery fees, and brought in expertise otherwise inaccessible by many local restaurants.  This grant will help us fulfill our ongoing mission to guide our members through programs like the "Keep Tucson Cooking" initiative, designed to reinforce the message of continued public support for local restaurants. In the coming weeks, PSAs, news releases, and media buys will run throughout Pima County through the COVID-19 pandemic and thereafter through the restaurants' slowest part of the year".  
The Chamber will offer small business grants in 2021. These dedicated funds are limited and will be granted based on an established set of requirements.  
About the Tucson Metro Chamber  
The Tucson Metro Chamber's mission is to champion an environment where your business thrives, and our community prospers. The Chamber is a member-based business advocacy and community development organization that represents more than 1,500 businesses, employing more than 160,000 employees in the greater Tucson area.  
---
TUCSON METRO CHAMBER MAKES IMPACT ON RESTAURANT POLICIES
The Pima County Board of Supervisors voted to approve a proclamation placing COVID-19 measures on restaurants, resort pools, gyms, attractions and other non-essential businesses that were allowed to open under Governor Ducey's Executive Order. The Tucson Metro Chamber's Restaurant Advisory Council (RAC) was instrumental in advocating for the changes necessary to promote public safety while removing or amending many measures that would have either have been too burdensome or costly to restaurants, bars and other businesses. In a May 15 Memorandum, County Administrator Huckelberry acknowledged that "based on discussions with Representatives of the Tucson Metro Chamber, I have made certain modifications to the proclamation that now reflect concerns that we heard from the regulated community." When razor-thin profit margins are turning into deficits, the overall goal should be to assist and promote businesses, not increase the number of regulations on an industry that already is highly regulated by the Health Department. Of the 17 additional requirements triggered by the Board of Supervisors two weeks ago, due to the Chamber's advocacy, two were eliminated and the other 15 modified so to still achieve the goal of public health and safety but allowing restaurants to open their dining rooms. We are also pleased to announce that one of the concepts approved by the Board was a partnership with the RAC to acknowledge and promote restaurants abiding by the measures set forth. The RAC will be working with Pima County to develop this program which will encourage health and safety amongst operators but also positively promote the restaurant and bar industry. We appreciate Supervisors Valadez, Bronson and Villegas for their willingness to support this program as well as the changes and modifications they approved. We would also like to acknowledge Supervisors Christy and Miller's dissenting vote. Their dissent was not due to lack of support for these changes, but rather a desire to simply allow restaurants to operate under the guidelines outlined in Governor Ducey's Executive Order. The County is awaiting a decision by the Attorney General regarding the challenge to their authority to implement these types of restrictions. The Chamber and the RAC will continue to actively work with the County on issues concerning the restaurant industry like access to PPE, third party delivery drivers and additional regulatory barriers.
---
Restaurant and Bar COVID-19 Measures
The Chamber's Restaurant Advisory Council has been hard at work to ensure regulations during this time promote public safety while at the same time don't place undue burdens on our local businesses. During these discussions, there have been a number of proclamations and executive orders approved by various entities so we wanted to make sure you knew what you can and cannot do.
You need to take the temperatures of your employees before they enter the establishment. Taking the temperature of delivery drivers, contractors and vendors is encouraged but it is not required.



Cloth masks and gloves and/or frequent hand-washing is required for all servers and restaurant personnel.



You need to post a sign that says, "STOP Please do not enter if you have COVID-19 symptoms" at the entrance of the facility.



Tables must be spaced a minimum of 6 feet apart from one another. Bar top or counter seating is not allowed, unless each party is spaced approximately 6 feet apart.



You need to clearly mark 6-foot spacing marks and/or signage along entrances, hallways, restrooms and any other location within a restaurant where queues may form or patrons may congregate.



You cannot seat more than 10 people at a table.



Be creative with your menus and payment systems, like online versions, that reduce the potential of spread through physical menus and other points of contact.



You cannot have salad bars and buffets at this time.



Hand sanitizers or soap and water stations should be available at or adjacent to entrances to the facility, restrooms and in employee work areas.



Like you already do, please carefully wipe down tables, tablecloths, chairs/booth seats, table-top condiments and condiment holders.



You can expand your seating area outside and it does not have to be immediately adjacent to the existing restaurant footprint. You still need to obtain a permit but the jurisdictions have simplified the process for these temporary extension of premises.



Liquor cannot be served to an extended area that is not contiguous to the restaurant.



Restaurants and bars can deliver alcohol either through a delivery service or themselves. A Department of Liquor form is required to be filled out for each delivery.
---
CITY OF TUCSON ADOPTS TEMPORARY EXTENSION OF PREMISES MEASURES
The Tucson City Council voted unanimously on May 27 to adopt temporary extension of premises measures for restaurants. The Tucson Metro Chamber and members of the Restaurant Advisory Council (RAC) have worked with Planning and Development Services (PDSD) staff over the past two weeks on reviewing and amending the language that went to the City Council. PDSD staff has been very collaborative in finding ways to streamline and make more efficient the services they provide to the development community.
Some of the measures include:


Seating allowed in a parking lot or private property

Seating in walkways or common areas on private property

Permits for banners and A-Frame signs are not required through the end of the year

Temporary tents and similar shade coverings may be used when properly located, secured, and approved

New seating does not have to be contiguous to the existing restaurant footprint (but state liquor laws must still be followed)
The RAC will continue to discuss other creative ways restaurants can expand their service areas as well as innovative measures to comply with CDC, state and local health and safety measures.
Tucson Restaurant Advisory Council.
Ray Flores, Flores Concepts | Chair
---
AJ's Famous Hollywood Hot Dogs
Arizona Food Marketing Alliance
Barrio Bread
Barrio Brewing Company
Beach Fleischman
Black Bear Diner
Divine Bovine
Canchola Family McDonald's
Caruso's
Chef Chic
Chick-fil-A
Churrasco De Brasil
The Coronet
CS Design Studios
Culver's
Dave & Busters
Dias Management
Finley Beer
Finley Beer
Fleming's Steakhouse
Flores Concepts
FORS Architecture
Fox Concepts
Fox Concepts
The Funky Monk
Frost
Gentle Bens
Heemee
HSL Properties
Hotel McCoy
HUB
Illegal Pete's
Johnny Gibson's Downtown Market
Kingfisher
Kiwami Ramen
Kyte Enterprises
Los Betos
Lucky Wishbone
Mama Louisa's
Marshall Foundation/Main Gate Square
Mi Nidito
Pappoules
The Parish
Penca
Peter Piper Pizza
PICOR
Pizza Hut
Prep & Pastry
ProVentures
Raising Cane's
Sentinel Peak Brewing Company
Shamrock Foods
Shamrock Foods
Shamrock Foods
Southern Arizona Ice & Water
Standard Restaurant Supply
Stillwell House
Sullivan's
Sushi Garden
Ten55 Brewing
Tucson Lifestyle
Union Hospitality Group
Univision
Visit Tucson
Whataburger
Richard Bratt, Beach Fleischman
Hans Rhey, Cox Media
Tim Medcoff, Farhang & Medcoff
Ellen Kirton, Pima Community College Small Business Development Center
Steve Ponzo, WaFD Bank
TRAC Partners in Strength
Restaurant Advisory Council Partners in Strength
 are not only supporters of our local restaurant industry but Southern Arizona's entire business community. 
Become a Partner In Strength