Every year, we release a legislative scorecard that outlines the actions taken by lawmakers regarding our priorities as an organization dedicated to the continued economic success of the metropolitan Tucson region. With hundreds of bills introduced and debated each legislative session, the Tucson Metro Chamber's legislative team, along with its members, identify the most impactful issues to businesses throughout our region and details the pro-economy, pro-jobs voting records for state lawmakers.
Bills used in the report are chosen based on their significant impact to the state's economic climate and workforce. The 2019 Scorecard includes bills addressing a variety of business-related issues including taxation, transportation, education, healthcare, and natural resources. Lawmakers are kept apprised of the Tucson Metro Chamber's position and reasoning on these bills through various communications during the legislative session—and prior to—key votes being taken. The scorecard only reflects the final floor votes for which there is a public record.
The results from the 2019 legislative session, and which Southern Arizona lawmakers supported Chamber positions, are below.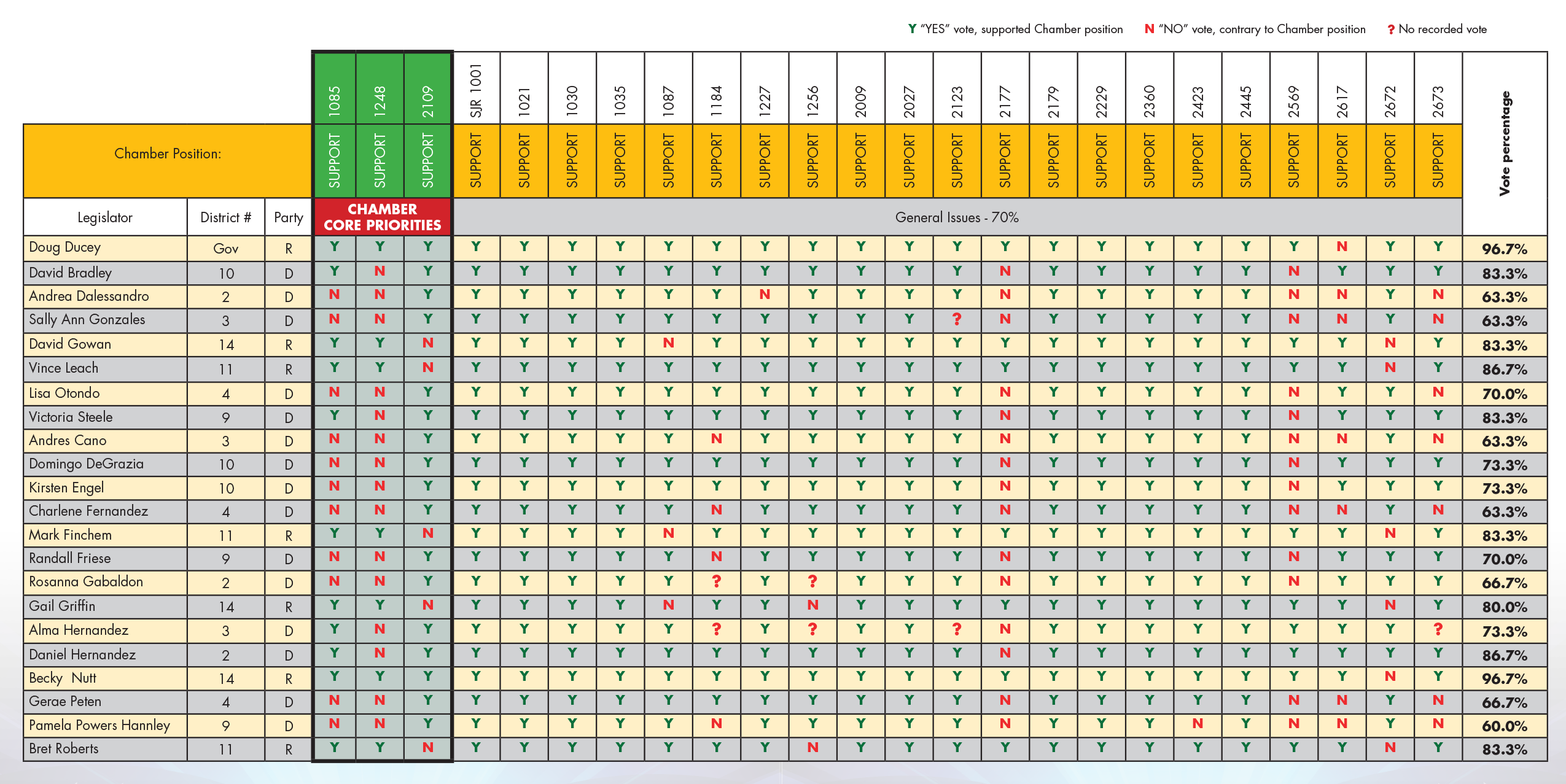 ---
1. S1085 - Association Health Plans
PRIORITY BILL
Clarifies, and further enables Association Health Plan (AHP) to operate in Arizona. Modifies the definition of employee and defines bona fide association, small employer, sole proprietor and working owner; opens AHP's to small employer groups of one, which may include sole proprietors or working owners.
TMCC Position: Support
RESULT: Signed into Law
IMPACT: Creates opportunity for Tucson Metro Chamber to expand its Association Health Care Plans to include sole proprietors
2. S1248 - Property Taxes; Valuation; Property Modifications
CHAMBER SPONSORED BILL
Circumstances in which the limited property value is required to be established at a level or percentage of full cash value that is comparable to that of other properties of the same or a similar use or classification is modified so that for property that has been modified by construction, destruction or demolition, the requirement applies only if the total value of the modification is equal to or greater than 15 percent of the full cash value.
TMCC Position: Support
RESULT: Signed into Law
IMPACT: Stops the punitive tax increases property owners and commercial leasees have experienced, as well as encourages investment for business expansion
3. H2109 - County Transportation Excise Tax
PRIORITY BILL
If approved by a majority of the qualified electors, a county transportation excise tax must be levied and collected at a rate that, by itself or together with any tax county transportation excise tax for roads, is not more than 20 percent (1-cent), increased from 10 percent (1/2-cent), of the transaction privilege tax rate
TMCC Position: Support
RESULT: Signed into Law
IMPACT: Allows Pima County residents to create a transportation maintenance and expansion program large enough to address critical needs faster.
4. SJR1001 – Colorado River Drought Contingency Plan
An emergency measure that authorizes the Director of the Arizona Department of Water Resources (ADWR), on behalf of the state, if certain conditions are met, to forbear Arizona's rights and claims to Colorado River water by entering into interstate agreements for the Drought Contingency Plan.
TMCC Position: Support
RESULT: Signed into Law
5. S1021 - Commission for Postsecondary Education; continuation
Commission for Postsecondary Education is extended eight years to July 1, 2027. Commission administers grant and loan programs for individuals who attend or will attend postsecondary education institutions.
TMCC Position: Support
RESULT: Signed into Law
6. S1030 - Remote Online Notarization; Registration
The Secretary of State (SOS) is required to adopt rules to facilitate "remote online notarizations," which must include sufficient forms of notarial certificates and standards for communication technology, credential analysis, identity proofing and retention of an audio and visual recording.
TMCC Position: Support
RESULT: Signed into Law
7. S1035 - Insurance; Small Employers; Continuation Coverage
For the purpose of statute regulating continuation of small group insurance coverage, the definition of "small employer" is modified to exclude an employer that employs an average of 20 eligible employees.
TMCC Position: Support
RESULT: Signed into Law
8. S1087 - Vehicle Liability Insurance; Minimum Limits
For motor vehicle liability insurance policies issued or renewed beginning on July 1, 2020, the minimum amounts of coverage required are increased to $25,000 from $15,000 for bodily injury to or death of one person in any one accident, to $50,000 from $30,000 for bodily injury to or death of two or more persons in any one accident.
TMCC Position: Support
RESULT: Signed into Law
9. S1184 - Schools; Economics; Personal Financial Management
When establishing high school graduation requirements, the State Board of Education must require at least one-half of a course credit in economics, which must include financial literacy and personal financial management.
TMCC Position: Support
RESULT: Signed into Law
10. S1227 - Colorado River Drought Contingency Amendments
Establishes the Arizona System Conservation Fund to be administered by the Director of the Department of Water Resources (Director), and appropriates $30 million from the general fund in FY2019-20 to the Fund. The Director is authorized to spend monies from the Fund to contract with Colorado River water users in Arizona that hold entitlements to Colorado River water to forgo water deliveries or diversions for the purpose of creating system conservation.
TMCC Position: Support
RESULT: Signed into Law
11. S1256 - School Districts: Procurement Practices; Auditors
Repeals statute requiring the State Board of Education to adopt rules for the procurement by school districts of any materials, services, goods, construction and construction services that require contracts to be awarded based on the lowest qualified bidder, which becomes effective July 1, 2019.
TMCC Position: Support
RESULT: Signed into Law
12. H2009 - Navigable Stream Adjudication Commission; Extension
The statutory termination date of the Arizona Navigable Stream Adjudication Commission is extended four years to June 30, 2024. Commission consists of five appointed members charged with determining which Arizona rivers and streams were navigable and non-navigable at the time of Statehood.
TMCC Position: Support
RESULT: Signed into Law
13. H2027 - Online Lodging Marketplace; Local Taxation
Municipalities and other taxing jurisdictions are authorized to levy a transaction privilege or other similar tax or fee on an online lodging marketplace from any activity subject to tax under the model city tax code, with the tax base for an online marketplace being limited according to statute governing the online lodging marketplace classification of transaction privilege taxes and subject to specified conditions, including that the tax imposed on online lodging marketplaces and online lodging operators must be uniform with all other taxpayers engaging in the same activity within the jurisdictional boundaries.
TMCC Position: Support
RESULT: Signed into Law
14. H2123 - TPT; Distribution; Community College Districts
Modifies the distribution of revenues from the 0.6 percent transaction privilege tax levied for education purposes so that the transfer of 3 percent of remaining monies to the Workforce Development Account of each community college district occurs after the appropriation to the Classroom Site Fund and simultaneous to the transfer of 12 percent of remaining monies to the Technology and Research Initiative Fund (TRIF) for universities, instead of after the transfer to the TRIF.
TMCC Position: Support
RESULT: Signed into Law
15. H2177 - Regulatory Sandbox Program; Amendments
Various changes to the Regulatory Sandbox Program. Transactions involving an innovation provided by a sandbox participant testing financial products or services as a money transmitter are exempt from the Program requirement to be an Arizona resident, but physical presence of the consumer in Arizona at the time of the transaction may be required. Specifies that the Attorney General alone enforces state regulatory laws applicable to sandbox participants. Sandbox participants are permitted to request an increase in the consumer cap from the Attorney General.
TMCC Position: Support
RESULT: Signed into Law
16. H2179 - Video Service Providers
A video service provider is included in the definition of "cable operator" for the purpose of the transaction privilege taxes. Various statutes regulating and relating to cable operators and licensed cable television systems are expanded to include video service providers and licensed video service networks, including various public utility regulations, use of public streets for utility right of ways, utility relocation cost reimbursement, and the prohibition against fraudulently obtaining video services.
TMCC Position: Support
RESULT: Signed into Law
17. H2229 - Cable Licensing; Video Service Providers
Establishes a new chapter in Title 11 relating to "video service" regulation by counties. Declares that the licensing of video service providers and the regulation and use of video service are matters of statewide concern and not subject to further regulation by a county except as specified in this legislation.
TMCC Position: Support
RESULT: Signed into Law
18. H2360 - TPT; Estimated Payments; Liability Threshold
The threshold after which a business entity is required to file an estimated transaction privilege tax payment in June is increased to an annual total tax liability of $1.6 million or more in 2020, $2.3 million or more in 2021, $3.1 million or more in 2022, and $4.1 million or more in 2023 and each year after, from $1 million or more.
TMCC Position: Support
RESULT: Signed into Law
19. H2423 - Space Flight Activities; Release Agreement
A space flight entity is authorized to enter into a liability release agreement with a space flight crew; Modifies the definition of launch.
TMCC Position: Support
RESULT: Signed into Law
20. H2445 - TPT; Residential Rentals; Notice
A municipality that levies a transaction privilege or other similar tax or fee, however denominated, applied to the business of renting or leasing real property for residential purposes is required to send a notice by first class mail to each residential transaction privilege tax licensee that is licensed with the Department of Revenue and to the address of each residential rental property that there is a new or increased rate of tax at least 60 days before the effective date of the new or increased rate of tax.
TMCC Position: Support
RESULT: Signed into Law
21. H2569 - Occupational Licensing; Reciprocity
A regulating entity is required to issue an occupational or professional license or certificate to a person who establishes residence in Arizona if the person is currently licensed or certified in good standing in at least one other state in the discipline applied for and at the same practice level as determined by the regulating entity and if the person meets a list of other specified requirements; some exceptions.
TMCC Position: Support
RESULT: Signed into Law
22. H2617 - Renewable Energy Storage Equipment; Valuation
For property tax purposes, the reduced valuation of renewable energy equipment of 20 percent of the depreciated cost of the equipment would have been expanded to include renewable "energy storage" equipment. For the purpose of the valuation of energy storage equipment, all energy storage equipment, both collocated with renewable energy and stand-alone energy storage equipment, would have qualified for the valuation.
TMCC Position: Support
RESULT: Vetoed
23. H2672 - Vacation Rentals; Short-Term Rentals; Regulation
Creates substantial parity between online lodging operators and traditional owners and/or operators. An online lodging operator is prohibited from offering for rent or renting a lodging accommodation without a current transaction privilege tax license. Vacation rentals and short-term rentals are prohibited from being used for nonresidential uses, including for a special event that would otherwise require a permit or license or for a retail, restaurant, banquet space or other similar use.
TMCC Position: Support
RESULT: Signed into Law
24. H2673 - Property; Products; Services; Sandbox
Requires the Arizona Commerce Authority to establish a Property Technology Sandbox Program in consultation with applicable state agencies to enable a person to obtain limited access to the market in Arizona to test "innovative property products or services" without obtaining authorization that otherwise might be required; Establishes application requirements and an application process for participation in the Program.
TMCC Position: Support
RESULT: Signed into Law